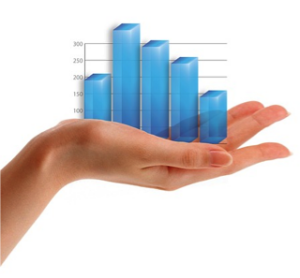 Okay, I'm not going to bore you with a math lesson, but there is a little math involved. Sustainable growth rate – or SGR – refers to the maximum growth rate a company is able to sustain without the need to obtain extra funds.
To calculate sustainable growth rate, you must first know your company's return on equity (ROE), which measures how profitable you are. Additionally, you will want to know how much your company pays out in dividends, otherwise known as the dividend payout ratio. These numbers are then used to calculate your SGR using the following formula:
ROE x (1 – dividend-payout ratio)
Sustainable growth rate serves as a break-even point for business growth. It provides a ceiling of sorts to identify the maximum point of sales that can be reached without depleting cash flows from operating activities. If your company exceeds its SGR, you will most likely need to borrow funds to continue normal operation.
Achieving sustainable business growth is a challenge for both small businesses and large corporations, in both the B2C and B2B sector. As economic, competitive, consumer, and political trends change rapidly and drastically, keeping up with these trends is a challenge in and of itself. Each trend presents its own challenge while business heads continue to achieve sustainable growth.
Growth strategy and growth capability are both key factors in attaining long-term growth. If a business fails to be mindful of either aspect, it may only be capable of short-term gains, but long-term growth is not possible. Moreover, a business that fails to execute its growth strategy will not be able to achieve long-term growth either.
Overall, there are two reigning growth strategies that most firms consider and each is predominantly dependent on goals; efficiency improvement and venture strategies. An efficiency improvement strategy is typically employed when a business is looking to improve its processes and leadership activities. A venture strategy is most appealing to a business that is looking to undertake new markets or other new opportunities.
This is where SGR comes in! Obviously, your success doesn't start nor does it stop at finding your sustainable growth rate. You'll need to continuously make adjustments to other factors when planning for healthy business growth. Consider all financial outcomes of increases in sales and set sales goals that cohere to your financial and operating policies. If your actual growth exceeds your SGR, you will need to consider other options, such as taking on more debt, selling new equity, reducing dividends, decreasing your assets to sales ratio, or increasing your profit margin. It's important to consider each of these options carefully and the potential impact they may have on internal or external parts of your business.
Simply put, there is no magical number or one specific strategy that works for every business looking to achieve sustainable growth. However, there are precautions to take and options at your disposal to figure out what works for your business, as well as what doesn't. APS understands the importance of sustainable business growth. If you have questions or want to learn about our policies regarding sales growth, contact us today!