Atlantic Precision Spring is a proud US spring manufacturer. At Atlantic Precision Spring, tooling is designed and fabricated by our staff of highly skilled toolmakers, utilizing the latest CAD technology. We have full control over all aspects of the process, from print to prototype to production, and we welcome custom and complex stamping challenges you may need.
In addition to producing precision metal stampings; electrical contacts (such as battery contacts); flat springs; wire compression, extension, and torsion springs; and wire forms through conventional means, we can produce metal stampings utilizing state-of-the-art progressive die and reel-to-reel equipment.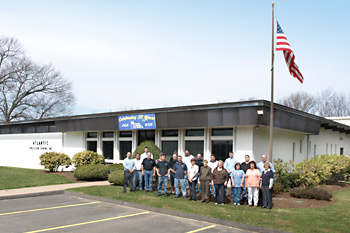 Our customer service staff is fully equipped to provide quick and accurate information regarding your order status, billing, and delivery questions. We are proud of our "personal touch" tradition.
Precision parts and exceptional customer service set Atlantic Precision Spring, Inc. above the rest. Contact us today to request a quote or find out how APS can provide a solution for your specific needs.