U clips are generally used to provide extra reinforcement. They can be easily placed over metal, plastic or wood providing a strong steady hold for vibration-free assembly. Our u clips are high-quality, ultra-functional pieces that are low cost, removable, reusable and generally made-to-order. Through our machinery, software and highly trained staff, we are able to manufacture complicated clips that meet your needs. Our staff will help you with your design, provide you with a quote and produce a final custom design for your approval.
Because of this, we have emerged as a leader in the spring clip manufacturing field based on customer satisfaction.
U clip fasteners and S clips can be bent out of any bendable alloy. The most common metal u-clips and s-clips are made from stainless steel and steel. But we can also produce these items in aluminum, stainless steel, brass, beryllium, high carbon steel, low carbon steel, nickel, and various bimetals.
Some industries that utilize our high-quality u-clips:
Marine
Military
Electronics
Quality Is What Separates Us From the Rest
Our 9001:2015 certification ensures the steps are in place for customer satisfaction. The ability to be a top custom metal u-clip and s-clip manufacturer is accomplished by having precision tools, well-trained employees, and impeccable quality inspection procedures. A network of computers links statistical process control monitors production to hold each part to specified limits.
We customize orders for each customer, based on material, finish, size, shape and/or order quantity. We can produce both small and large volume orders. All parts are "Made in the USA." Our u-clips are produced on two main types of machines, power presses, and fourslide machines.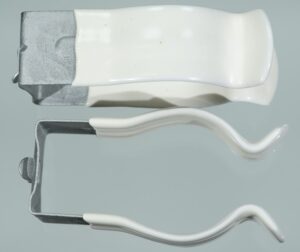 Remember, our engineering assistance is available to maximize the effectiveness of your u-clips and s-clips. We use a spring design program that can select the optimal material, thickness, and temper for your application. And an added value, we provide customers with a spring force calculation and sample material force measurements to assist in determining the optimal solution for your needs.
What is a u-clip?
A u-clip is a type of fastener that is one of the most common and easy to use fasteners. A single strip of steel is formed into the shape of a 'U' forming two legs that can then be used to clamp onto metal, plastic or wood.
What are u-clips used for?
U-clips can be used for a variety of different projects such as securing panels, storing tools, holding and organizing cables and piping, holding the circuit board to a computer case, and so much more. Click here to see additional uses for u-clips.
What is an s-clip?
An s-clip is a type of fastener that bends a single strip of steel into the shape of an 'S' and commonly attached to parallel panels.
What is the best material for a u-clip?
Stainless steel and steel are the most popular materials for u-clips. Other materials that are used include beryllium, high carbon steel, low carbon steel, nickel, and various bimetals.