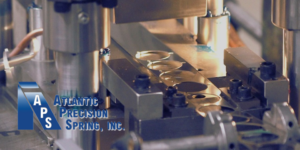 Atlantic Precision Spring is one of the top manufacturers of metal stamping. We are a trusted stamping parts manufacturer, having over 50 years of experience and providing our customers with high-quality products, low cost, and fast turnaround time. Atlantic Precision Spring is a precision metal stamping manufacturer that can produce custom metal stampings from a flat strip ranging from 0.003″ (.076 mm) to 0.125″ (3.175 mm) thick and up to 12.00″ (304.8mm) wide.
7 Reasons To Work With Atlantic Precision Spring
Years of experience working on custom metal stamping projects.
Rapid turnaround on quotes, prototypes, and production runs.
Electronic sensors are used to detect defects during the production run.
Customer samples are available during all stages of the manufacturing process.
All our projects are completed in-house.
Using the latest CNC milling and state-of-the-art WEDM equipment.
We work with many different industries.
That's to name a few, but we can keep going!
Did Someone Say Custom?
We can't stress the customization of our products enough. Here at Atlantic Precision Spring, we understand that stock products won't get the job done, and that's why we are known for our custom metal stamping capabilities. Our skilled and knowledgeable engineers work with our customers, asking the right questions to ensure the custom metal stamping product meets their needs and specifications, all while providing exceptional customer service.
Is Metal Stamping Right For Your Project?
Atlantic Precision Spring provides metal stamping for various industries, including Aerospace, Medical, Industrial Original Equipment Manufacturing (OEM), Oil & Gas, Fluid Power, Automotive, Electronics, Military, and so many more!
The aerospace industry uses metal stamping for airframes, brackets, and seat components. Metal stamping is very popular in the medical industry because of the ability to stamp small and complex shapes to meet exact specifications for instruments like pacemakers and internal defibrillators. The oil and gas industry requires custom metal stamping for valve-sealing components to system-critical brackets and connectors.                                          
                High Quality & Durability                    Low Cost                          Fast Turnaround Time
As you can see, there are many reasons to choose Atlantic Precision Spring as your metal stamping manufacturer. Connect with us today to see how we can help you with your custom metal stamping project.
What is metal stamping?
Metal stamping, also referred to as pressing, involves placing flat sheet metal into a stamping press so the flat sheet can be converted into custom shapes. Metal stamping is a cold forming process, which is when metal is shaped below its recrystallization temperature.
What is metal stamping used to make?
Metal stamping is used to make a variety of different products that we use in our everyday life, such as bicycle and aeroplane parts, wireless phones, satellites, routers, seat belt buckles, brake backing plates, hinges, just to name a few.
What are the different types of metal stamping methods?
There are many different types of metal stamping methods, such as four-slide stamping, micro stampings, progressive die stamping, sheet metal stampings, stainless steel stampings, transfer die stamping, deep draw stamping, short run stamping and fine blanking.