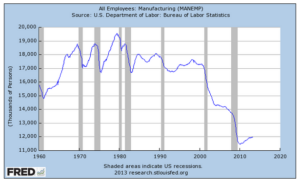 We live in a world today where a tweet sent on the other side of the globe takes mere seconds before it arrives in our feeds. We do business on a global scale and sell products to customers in all types of industries and markets. This means competition is thick. But it also opens the doors for a small U.S. manufacturer to expose itself to an entirely new audience. Manufacturing looks positive, especially compared to recent years. Atlantic Precision Spring has found success through its extensive experience with metal stamping and spring manufacturing and is able to boast many perks over overseas competition.
Current Landscape
According to Bloomberg, US manufacturing has been growing rapidly for the past three years, the first time in 50 years that it has edged out the overall U.S. economic GDP. Specifically, plastics and metals have seen gains. As a leading metal stamping and spring clip manufacturer, we have witnessed the rise in demand for metal products. On the opposite end, manufacturing overseas has seen some declines. Weakening demand and geopolitical risks have caused European manufacturing businesses to take a hit. A few different things have contributed to this shift and the domestic growth that has followed. Forbes notes the following as some important factors:
– Raw material costs in the U.S. are the lowest in the world.
– The U.S. sports very low interest rates compered to other countries.
– Today's factory floor in the U.S. is staffed with skilled laborers and trade professionals, who help get the job done quickly and efficiently.
– It costs less to ship goods locally than ship them via ship or plane overseas.
We've also been seeing energy cost savings nationally and spurs in technology advancements, giving us a hand in boosting productivity. Additionally, overseas wages have risen in recent years making it worthwhile to keep jobs in the U.S. for equally or higher quality labor. And it appears that, following the recent recession, we've begun to see a growth in terms of manufacturing jobs. In particular, US manufacturing makes up more than 17 million American jobs today. Atlantic Precision Springs adds to that impact, employing more than 25 skilled trade workers out of its Bristol, CT-based operation.
Our Role
There are a number of benefits of doing business with an American manufacturer like Atlantic Precision Spring. Some include:
– Manufactures positively impact the U.S. economy by hiring and supporting American staffers. We also pay U.S. taxes putting dollars back into our own system.
– Customers can enjoy cost savings on deliveries due to shorter distances and quicker shipments.
– The efficiencies in travel costs positively impact the environment.
– There are higher safety and quality control measured here compared to most overseas workplaces. – Specifically, our company is ISO certified and meets rigorous quality standards through our state-of-the-art software and inspections.
– Customers have improved customer service and technical support at home.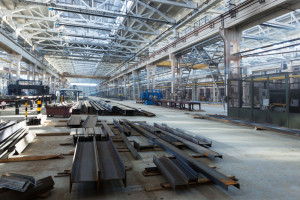 So how does Atlantic Precision Spring compete globally? Not only do we market ourselves internationally, but we utilize technology to stay competitive against businesses overseas. One specific piece of technology is our Keyence Vision System. This system is able to check 99 different dimensions per part and inspects items within 3-7 seconds. It greatly enhances our quality control and the turnaround time on our products.
Additionally, our ability to customize allows us to stand out in the marketplace against larger firms and companies overseas. Atlantic Precision Spring has the capabilities to manufacture any type of metal stamped part – from leaf springs to flat metal plates to clasps to round wire springs. We can customize orders by type, size, material or quantity. We work with each customer to develop unique products that will match his/her needs, and we ship in a timely fashion to meet demanding shipment deadlines.
The National Association of Manufacturers stated that manufacturing in 2013 contributed $2.08 trillion to the economy, up from $2.03 trillion in 2012. Considering the current trend, we can see that manufacturing continues to play a monumental role in the U.S. economy, while also competing more aggressively against overseas markets. The Washington Post says that Caterpillar, GE and Ford are just a few big name companies moving operations back to the U.S. Perhaps they are following the lead of small manufacturers like ourselves, servicing all types of customers both domestically and abroad with timely shipments and competitive pricing. We are proud to be a Made in America company and partner with loyal customers year after year to help meet their metal stamping and spring manufacturing needs.